Ibiza Royal Frente Mar 3 Bedrooms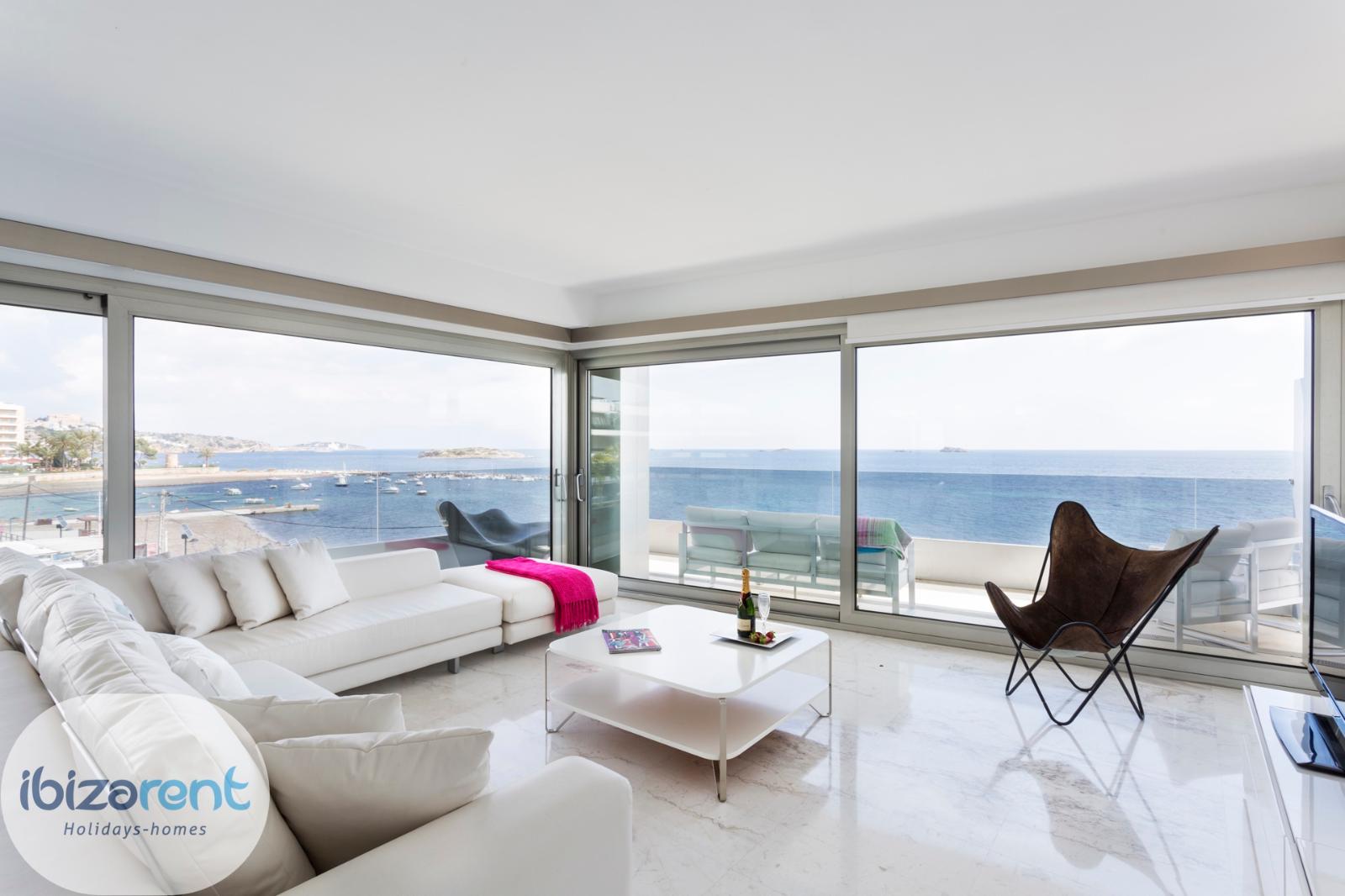 Size: 150 m2
Occupancy: 6 Adults
Book now
Ibiza Rent Houses offers prestigious beachfront apartment in condominium with swimming pool directly on the beach of Ibiza. The large apartment has three large bedrooms, three bathrooms, lounge, kitchen and large terrace facing the sea to accommodate up to 6 people.
The Ibiza Royal Beach is an exclusive luxury condominium in the first line directly on the beach, the apartments provided belong to the same category indicated in the description and all enjoy a sea view and use of the exclusive swimming pool available to guests.
The apartments are equipped with everything you need for your stay, crockery, towels, courtesy hygiene set, hand sanitizers and disinfectant products, sheets and blankets, courtesy beach towels, iron and ironing board, washing machine, free wifi, parking and much more for your relaxation and safety.
Also on request you can customize your experience according to the needs and length of stay with extra services, such as concierge service, cleaning, sanitation and daily linen change, car, boat, scooter and bicycle rental.
To prevent and protect our guests from the spread of the SARS-CoV-2 virus, the origin of COVID-19, we guarantee higher quality standards for cleaning and disinfection, which ensure the safety of our travelers. All apartments are completely sanitized and disinfected from top to bottom after each stay following strict protocols as prescribed by the WHO and using professional sterilizing products and specialized personnel equipped with all personal protective equipment in order to prevent any potential contagion from Covid virus. 19. The protocol provides a first phase of deep and complete cleaning where germs, dirt and impurities present on surfaces and objects are removed, using specific detergents in all rooms of the house from the kitchen to the bathroom. The second phase of total disinfection instead kills all the germs present on surfaces and objects, through the use of appropriate products in all the rooms and with particular attention to the surfaces most frequently touched such as kitchen, bathrooms, handles, doors and windows, remote controls, chairs, tables, taps, switches etc.
Inside the apartment you will find all the complete instructions with the standards of the services provided for cleaning and sanitation, the latest local regulatory provisions updated to prevent Covid-19, practical prevention tips, instructions on condominium rules, local guides, numbers useful and emergency.
Following confirmation and payment of the reservation you will receive the booking voucher, within 15 days of arrival all the details for the check-in and the relative instructions.